Carolyn Kinder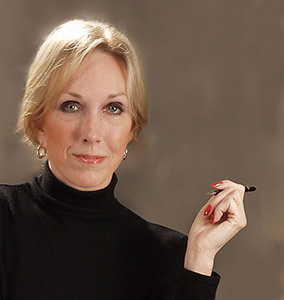 Carolyn Kinder was born with an innate sense of artistic wonderment and curiosity. Her love of beautiful, unique objects began early as she traveled the world as a child of a military family, gathering trinkets along the way. The mix of cultural influences in Carolyn's early years helped her to develop an effortless connectivity with people and places around the globe. This open world view would eventually lead to Carolyn's ethos of "Trendless, Timeless, Well-Traveled Style."
Carolyn passed away on August 16, 2023. Her son, Robert Kinder, lead designer David Simpson, and a team of talented artisans and others carry on her vision, designing timeless, classic home furnishings for a new generation. Carolyn Kinder was an artist and visionary, a teacher and entrepreneur, a traveler and successful businesswoman.
As a busy mother of three and a talented artist, Carolyn continued to develop her art, finding inspiration for her paintings in the beauty around her. In 1970, she launched a career that has spanned more than four decades and continues to thrive. Carolyn's career began humbly, as a painter and art teacher who had the entrepreneurial vision to open The Art Place, a shop to create marvelous frames and mats for the works of her students and other artists. Her work with innovative matting, frames and art became widely recognized around the country, including the selection of her painting, Boy's Fishing, which hangs in the U.S.S. Arkansas.
The focus of Carolyn's business expanded once more when her innovative framing designs attracted the attention of local fine furniture stores. Soon she was selling all the framed wall decor she could make to several large furniture retailers. From that modest start, Kinder-Harris was born in 1974, and under Carolyn's direction, grew into a multi-million-dollar international home accessories company.
Carolyn's innovative designs continued to earn national acclaim and her company was twice honored with the ART award for Best Picture Manufacturer, the industry's highest honor. As the Kinder-Harris brand expanded, Carolyn's work and style grew to include a wide variety of mixed media. She traveled extensively, gathering inspiration for her art and making connections with artisans and businesses around the world.
During a trade show in New York, she met an Italian manufacturer who invited her to customize a few moldings for him. A trip to Italy and a short time later Carolyn's innovative molding designs dominated the framing industry. Looking for more new and diverse creative opportunities, Carolyn sold her interest in Kinder Harris to J.C. Penney Company in 1992.
She launched Carolyn Kinder Inc., to design coordinated collections of home accents. Her philosophy of trendless, timeless, well-traveled style has made her a legend in the home décor industry. She is well-regarded for her fashion sense, artistic genius, creative finishes and techniques, international connections and entrepreneurial vision.
In 2000, the home furnishings industry recognized Carolyn Kinder as the first woman to receive the ART Academy of Achievement Award. By 2002, she had become an international presence and established Carolyn Kinder International as a multi-dimensional company focused on sourcing and design development.
Carolyn's thoughtful, unexpected combinations of material, shape, and finish came together with a relentless focus on detail. Each of these timeless collections hone a clarity of style that is easy to identify.
Today, Carolyn Kinder International has an established reputation for designing, producing, marketing and licensing distinctive home furnishings for wholesalers, traditional retailers, contemporary galleries and high-end interior design firms. Her designs have driven more than a billion in retail product sales. Her body of work is showcased in fine homes, offices, theaters, galleries, public institutions and private collections worldwide.
The quality of a person's home is a huge part of the quality of their life. People put things that they love in their home, things that bring them comfort and warmth and memories and style and individuality – all the things that make home – home.
Industry Awards
ART's Lifetime Achievement Award (1999)
Withit's WOW nomination for Outstanding Woman in the Home Furnishings Industry (1999)
ART's Academy of Achievement Award (2000)
Withit's Legacy Award nomination (2006)
Industry Service
Chair of ART Committee for Customer Awareness
Member of the Dallas Trend Panel
Member of the Accessory Advisory Board for the International Home Furnishings Center in High Point, NC.